The Save Soil Foundation (SSF) is among the pioneering early contributors to the global Save Soil Campaign, which was launched by Sadhguru on March 21, 2022. Along with the Conscious Planet team, SSF played a key role in initiating and sustaining this important ecological campaign.
It is to be noted though that SSF's role is not to control or lead any Save Soil initiatives, nor are we the only organization supporting the critical success of this global goal. SSF is one part of a much larger ecosystem with the sole goal of ensuring food security for the coming decades.
One of the unique contributions of SSF to the campaign is the creation of two major initiatives: Art For Soil and Tech For Soil. These initiatives are playing a very important role in connecting the micro and the macro ecosystems to significantly shape the Save Soil Campaign's success.
Art For Soil is a digital initiative that has expanded the reach of the Save Soil Campaign to a massive viewership of 85 million among people worldwide using clever marketing tactics through GIFs and Stickers distribution to over 600+ Social Media platforms. Through the use of such innovative art and creative storytelling, this initiative has helped to bring the message of soil conservation to pop culture and increase the campaign's visibility. Horizontal expansion is the most difficult part of a campaign, and glad to see that Art For Soil has made it hardship a reality.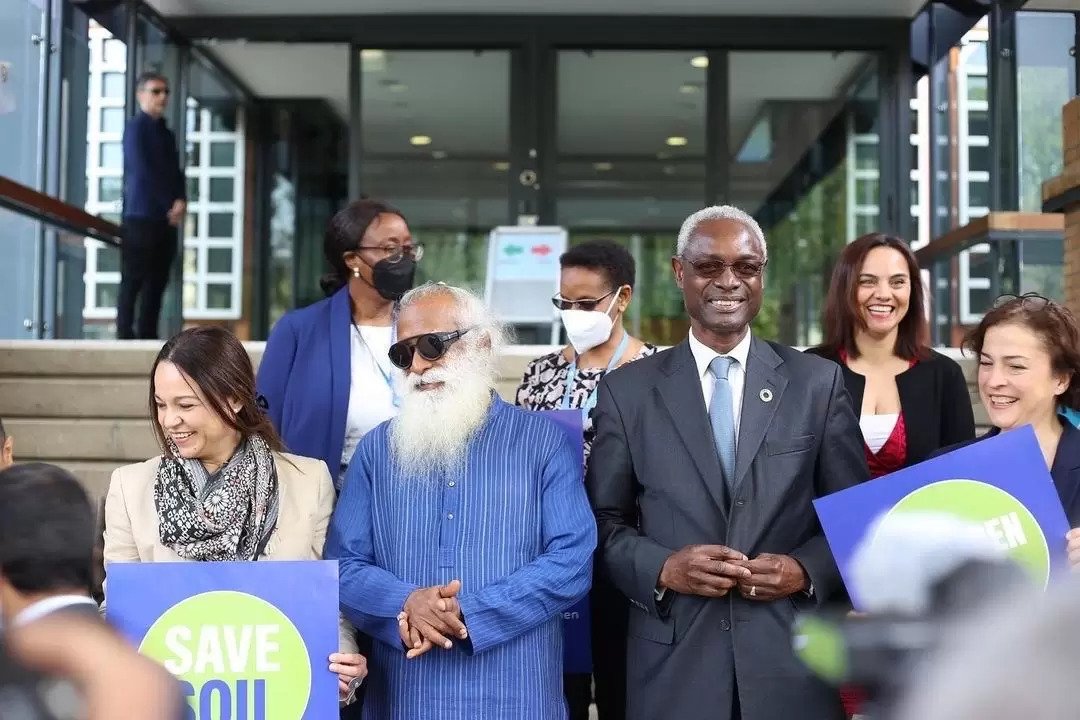 Sadhguru (center) at UNCCD joining Ibrahim Thiaw (right), Executive Secretary, UNCCD: Soil is not a resource, it is the source of our life.
Tech For Soil is another innovative initiative that focuses on bringing ground action to soil rejuvenation through technology. Shortly after the campaign ended, it brought global attention to the Save Soil Campaign and Sadhguru. SSF's technology scouting efforts have resulted in major media houses, such as the BBC, Canada Today, Yahoo News, etc publishing stories about the campaign and SSF's technology partner Microbiometer. This has helped increase awareness of the campaign and become a pillar of broadcasting the message of soil conservation and solution on the ground. Access the full article here.
Both Art For Soil and Tech For Soil – have become an integral part of executing the vision of the Save Soil Campaign. In our next blog, we will delve deeper into the reasons why SSF launched these initiatives and how they are related to two fundamental dimensions of humanity.
Being one of the early contributors to the Save Soil Campaign, the Save Soil Foundation is committed to working with like-minded organizations and individuals to raise awareness about the importance of soil conservation and promote sustainable land use practices. Join us in our mission to Save Soil and help create a better future for all.
Source – SSF Volunteers